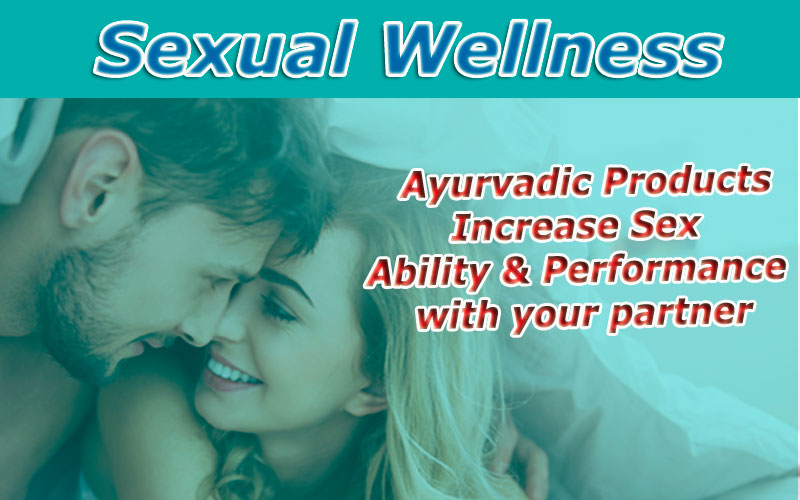 Sexual Wellness
Sexual wellness refers to sexual health. It depends upon many factors that make an effect in sexual function and reproduction. It includes a variety of physical, mental and emotional factors. These disorders can impact a person's sexual wellness.
Importance Of Sexual Health:
It's a very important part of being human. Sexual intimacy, affection, and love contribute to healthy relationships. But there are a number of things like illness, mixed emotions and unintended consequences that affect our sexual health.
Sexual Health Issues:- Ayurvadic Products For Sexual Wellness
The common sexual disorders are:
Sexual dysfunction, Painful intercourse, loss of sexual desire, erectile dysfunction
Reproductive system disorders, including Cancer
Urinary system issues.
Maintaining Your Sexual Health
The maintenance of sexual health of a man is totally different from that of a woman.
Men's Health:
HIV testing
Blood Pressure screening
Sexual health treatment and evaluation
Routine age-specific laboratory testing
Support in maintaining sexual health.
Women's Health:
Pregnancy testing and counseling
STI screenings
Contraceptive counseling
Routine gynecological tests
Emergency contraception.
Here I am going to tell you about some Ayurvedic products. If you will be used these ayurvedic products I am sure your partner will be very happy with you and will be satisfied.
Here are some Sex Ayurvedic products for your Sexual Wellness.
Goli Wajid Ali Shah
Anmol Goli Shahanshahshahi
Musli Power Xtra
Multani Jatiphaladi Vati
Japani-M Capsules

Goli Wajid Ali Shah

Activates the chief organs of the body. Corrects sexual disorders like premature ejaculation, involuntary discharge of semen, functional impotence and related disorders. Replenishes the vital forces, enhances energy and stamina, makes the body organs and muscles strong.
Khar-e-Khushk
Aspand Sokhtani
Jaiphal
Javitri
Darchini
Asgandh
Shilajit
Magh Tukhm Konch
Qaranfal
Maghz Tukhme Tamar Hindi
Satawar
Pumbadana
Fulfulsiyah
Kunjad Sihay
Sugar

Anmol Goli Shahanshahi

Anmol Goli Shahanshahi Improve Sexual Performance in Men, Increase Frigidity, Symptoms of early aging, Depression.
Benefits of Anmol Goli Shahanshah
Solves the erectile problems
Increases the volume of ejaculation
Faster recovery for the second orgasm
Improves the semen quality
Controls the premature ejaculation
Improves the general wellbeing and vitality
Prolong your performance
Increases frequency of orgasm
Equally good for male and female
Increases sperm count

Musli Power Xtra

Cura Musli Cura Power works in premature ejaculation, nightfall, less sperm count in semen, impotence, weakness due to diabetes and extra sexual activity, loss of appetite and fatigue. Cura Musli Cura Power is a herbal health supplement purely enriched with white(Safed) Musli – a great aphrodisiac herb.
Ongoing benefits of Musli Power
Increases libido
100% herbal formula
No side effects
High potency extracts used
Bio-degradable containers are used for packing.
Powerful anti-oxidant
Works as strong energy booster
Offers anti-ageing agent
Works as stress reliever

Multani Jatiphaladi Vati

Multani Jatiphaladi Vati (Stambhak), also spelled as Jatiphaladi vati, maintains a strong erection, so it is used to treat premature ejaculation in men. It improves time, stamina and performance during the act. Its action appears on nerves, seminal vesicles, and penile muscles. It prevents and delays ejaculation by maintaining the stiffness of the penile tissue for a longer duration.
Multani Jatiphaladi Vati Ingredients (Composition)
Akarkara – Anacyclus Pyrethrum
Sonth (Ginger Rhizome) – Zingiber Officinale
Sheetal Chini or Kababchini – Piper Cubeba
Kesar (Saffron) – Crocus Sativus
Pippali (Long Pepper) – Piper Longum
Jaiphal (Nutmeg) – Myristica Fragrans
Laung (Clove) – Syzygium Aromaticum
Safed Chandan (White Sandalwood) – Santalum Album
Shuddha Ahiphena – Papaver Somniferum

Japani-M Capsules

Chaturbhuj Japan-M Capsules is used for Impotence, Obesity, Skin diseases, Urinary tract infections, Cholera, Spasms, and other conditions. Chaturbhuj Japan-M Capsules may also be used for purposes not listed in this medication guide.
Chaturbhuj Japani-M Capsules contains Naushadar, Naushadar, Qand Safaid, Qand Safaid, Roghan Tulsi, Rube Mulethi, Sapistan, Sapistan, Tukhm Khatmi, Tukhm Khatami, Unnab, and Unnab as active ingredients.
Uses Of Japan-M Capsule
Japani M Capsule is used for the treatment, control, prevention, & improvement of the following diseases, conditions and symptoms:
Impotence
Skin diseases
Febrility
Obese
Urinary tract infections
Stress
Gonorrhea acne
Obesity
Skin and wound infections
Typhoid fever
Cholera
Tuberculosis
Fungal infections
Inflammation
Gastric ulcer
Platelet aggregation
Ulcer
Microbial infections
Spasms
Hyperlipidemia
Fever
Oxidative stress
Hypertension
Epilepsy
Cancer
Herpes simplex
Metabolic alkalosis
Hypochloremia states
Ulcers
Tumor
Diabetes
Bacterial infections
Upper respiratory infections
Leishmaniasis
Various pneumonias